by Tanner
© AllThingsDogBlog.com
Prizes and Priorities
By now y'all must know my priority is chow. Let's face it, life is just better when our tummies are full. But I digress. I'm here today to let you know that All Things Dog Blog and
Dogtipper.com
have teamed up as
Event Barkers
and planned a new Twitter Party:
#EBTweets
.
It sounds a little like "EB Toots" to me, and that's exactly what they'll be doing, according to mom. They want to tell you all about their upcoming Twitter Parties, while handing out all kinds of cool goodies to cats and dogs. Yes, you heard that right--
cats too
!
Oliver and I are busy trying to locate the swag so we can hide it from her, but so far no luck. Any help out there? I mean really; is she going to give away all my
Castor and Pollux Organix
? And what about that big box of
Zukes treats
? Gone? Ugg.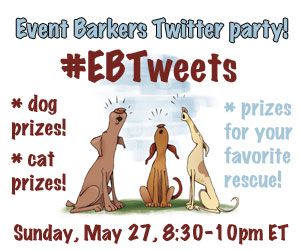 I hear her in her office chattering away about prizes over $1000 and wonder what else will disappear. The only good thing I have determined is that she's encouraging y'all to feel free to donate your prizes to a rescue. My homeless cousins could sure use this great loot--toys, treats, food, training stuff and some pretty cool tote bags. Mom brought home all sorts of tote bags with dogs and cats on them. Oliver fits into them, but not me
. Whew!
So I suppose we're going to lose this loot to you. You may as well go ahead and
RSVP for this #EBTweets Twitter Party
. Mom will throw it whether I like it or not!
Tiki and Irie over at
Dogtipper.com
are trying to sneak some of the loot that is lurking in their cabinets. They really ought to engage the help of Felix, Linus and the rest of the feline gang, don't you think? Paws crossed that they are able to retrieve some of it!
© Dogtipper.com
Awesome Dog Prizes
for PreTweet Drawing
If you'd like to track the news on prizes, parties and more, subscribe to
Event Barkers newsletter
, and be sure to drop in at Dogtipper.com and AllThingsDogBlog.com for updates. And don't forget to
RSVP
for the #EBTweets shindig on May 27th with
@EventBarkers
.
Mom says I have to tell you that you can help get the word out ( and get entered to win a cool prize) if you help PreTweet about the #EBTweets Twitter Party. Apparently there are some great grab bag prizes with bunches of cool stuff. She says they have bags for cats or dogs, so it doesn't matter who wins. Here's a sample Tweet to get you started on winning this great bag of toys:
#EBTweets has started preTweeting 4 prizes. Thx @5minutesforFido's Tanner for helping get the word out at www.5minutesforfido.com
See you at the party. I'll be the sad one helping to give away dog food and dog toys that I could certainly put to good use right here. You are some lucky dogs, you know?
Prize Eligibility: Everyone worldwide is welcome to join in #EBTweets for fun. Prizes are limited to U.S. and Canadian addresses. Prizes designated to a rescue by their winners may go only to U.S. rescues. Thank you for your understanding!